M&E, with the full meaning of Mechanical and Electrical, is translated as Mechanical and Electrical. The electromechanical system plays an extremely important role in completing the infrastructure of a project. First-time home builders often pay little or no attention to this item. Because of the inconvenience of wrong construction, M&E often has to be seen after the process of use. Not bad outside beauty, M&E directly affects the family's living habits and daily life.
So what is M&E electromechanical system? How many items does the M&E system have? Please follow the article of P69 Mechanical Factory to better understand
What is an electromechanical system?
M&E stands for Mechanical and Electrical which means mechanical and electrical. The electromechanical system in the building helps the building operate more smoothly and flexibly, which is an indispensable part. M&E systems in the building account for about 40-60% of the total volume of the construction when each building has two elements of construction and mechanics, even some projects up to 70-80%.
Classification of electromechanical systems
The electromechanical system includes heavy electricity and light electricity. Here are the details of the two categories above:
1. Heavy electricity included
– Main power supply: is the main power supply system, including medium voltage cabinets, medium voltage lines, 24kV/0.4kV transformers and main switchgear (called MSB, main switchboard). May have additional (Automatic Voltage Regulator System: Automatic Voltage Regulator System, AVR for short)
– System of distribution cabinets: Submain power supply (including power supply for motivation, production, lighting, sockets …)
– Living lighting system: Lighting
– Socket System: Socket outlet
– Emergency lighting system: Emergency lighting (exit light, emergency light)
– Earthing system: Earthing system (or grounding system)
– Lightning protection system: Lightning protection system (including grounding rods and lightning collector, other than grounding system)
2. Light electricity included
– LAN and Internet system: Data network system
– Telephone system: Telephone system
– Security monitoring system: Security & Supervisor system
– PA system (public address system)…
What items does M&E electromechanical system include?
M&E systems in the building are divided into 4 main categories:
– Ventilation and air conditioning systems (Heating Ventilation Air Conditioning; HVAC)
– Drainage system and sanitary equipment (Plumbing & Sanitary; P&S)
– Electrical system (Electrical)
– Fire alarm and firefighting system (Fire Alarm & Fire Fighting)
The Mechanical section includes mechanical related systems such as wind and air conditioning systems; fire protection; water supply and drainage; supply LPG gas and compressed air.
The electrical section includes items related to electricity such as distribution, power supply, lighting, control, light electricity.
M&E design standards
The design standards of M&E systems in the building need to fully meet the Vietnamese Standards (TCVN) and Technical Regulations (QCVN) announced by the Vietnam Quality Standards Institute and ministries.
1. About the wind and air conditioning system
Electromechanical contractors must design according to the following standards:
– TCVN 6160:1996 – Fire protection – High-rise buildings – Design requirements
– TCXD 232:1999 – Ventilation, air conditioning, refrigeration systems – Fabrication, installation, acceptance
– QCVN 26:2010 – BTNMT – National technical regulation on noise
– TCVN 5687:2010 – Ventilation, air conditioning – Design standards
– QCVN 09:2013 – Efficient use of energy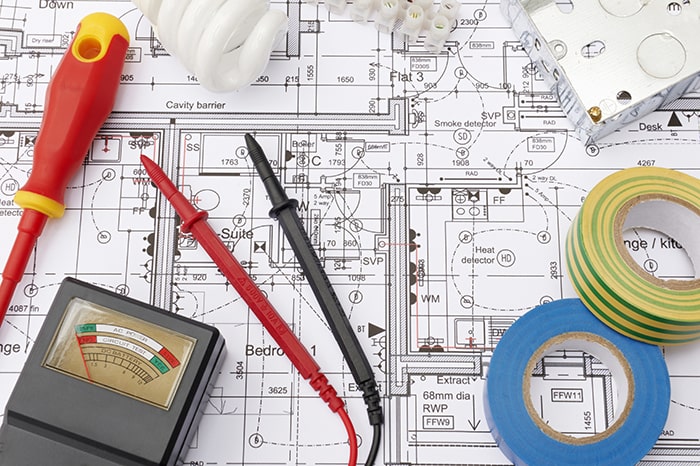 2. About the design of drainage system and sanitary equipment
M&E M&E contractors should also meet some of the following criteria:
– TCVN 4513: 1988 – Internal water supply and drainage – Design standards
– TCVN 4519: 1988 – Water supply and drainage system inside houses and works
– TCVN 33:2006 – Water supply – External networks and buildings – Design standards
– TCVN 7957:2008 – Drainage – External networks and buildings – Design standards
3. About fire alarm and fighting
– TCVN 2622:1995 – Fire prevention and fighting for houses and works – Design requirements
– TCVN 5738:2001 – Automatic fire alarm system – Technical requirements
– TCVN 7336:2003 – Fire protection – Automatic sprinkler system – Design and installation requirements
– TCVN 3890:2009 – Means of fire prevention and fighting for houses and works
4. About the electrical system in the building
– TCXD 4756:1989 – Regulation on grounding and zero connection of electrical equipment
– TCVN 11:2006 – Regulation on electrical equipment
– TCXDVN 394:2007 – Design and installation of electrical equipment in construction works – Electrical safety
– QCVN 07:2016 – National standard on infrastructure (5 – Power supply works; 7- Lighting works)
– TCVN 9206:2012 – Installation of electrical equipment in houses and public works – Design standards
– TCVN 9207:2012 – Laying of power lines in houses and public works – Design standards
Contact information P69 Mechanical Factory
Address: Km 18, Thang Long Boulevard, Thach That Quoc Oai Industrial Area, Hanoi

Headquarters: No. 06/165C, Xuan Thuy, Cau Giay, Hanoi

Telephone: 09666 86 969

Hotline: 0989 188 982

Email: kd1@cokhip69.com.vn

LinkedIn: https://www.linkedin.com/in/nhamaycokhip69/

Website: https://cokhip69.com.vn/

Youtube: https://www.youtube.com/channel/UCfvFIhhuJ4ANAO0glUPSTAg/ab