Double Layer Diffuser is an indispensable product on the air conditioning system. Because the construction of civil construction works, and industrial parks require high quality and aesthetics. In which, the ventilation system is an indispensable item. Follow along with the post shared by P69 Mechanical Factory, to learn more about this product!
Product Information
Product code: DLD (Double Layer Diffuser)
Material: Shaped Aluminum code A6063T5
Surface cover: Powder-coating
Standard Color: Porcelain white, and other standard colors
Optional accessories: Opposed Blade Damper (OBD), Dust filter.
Size: Customized.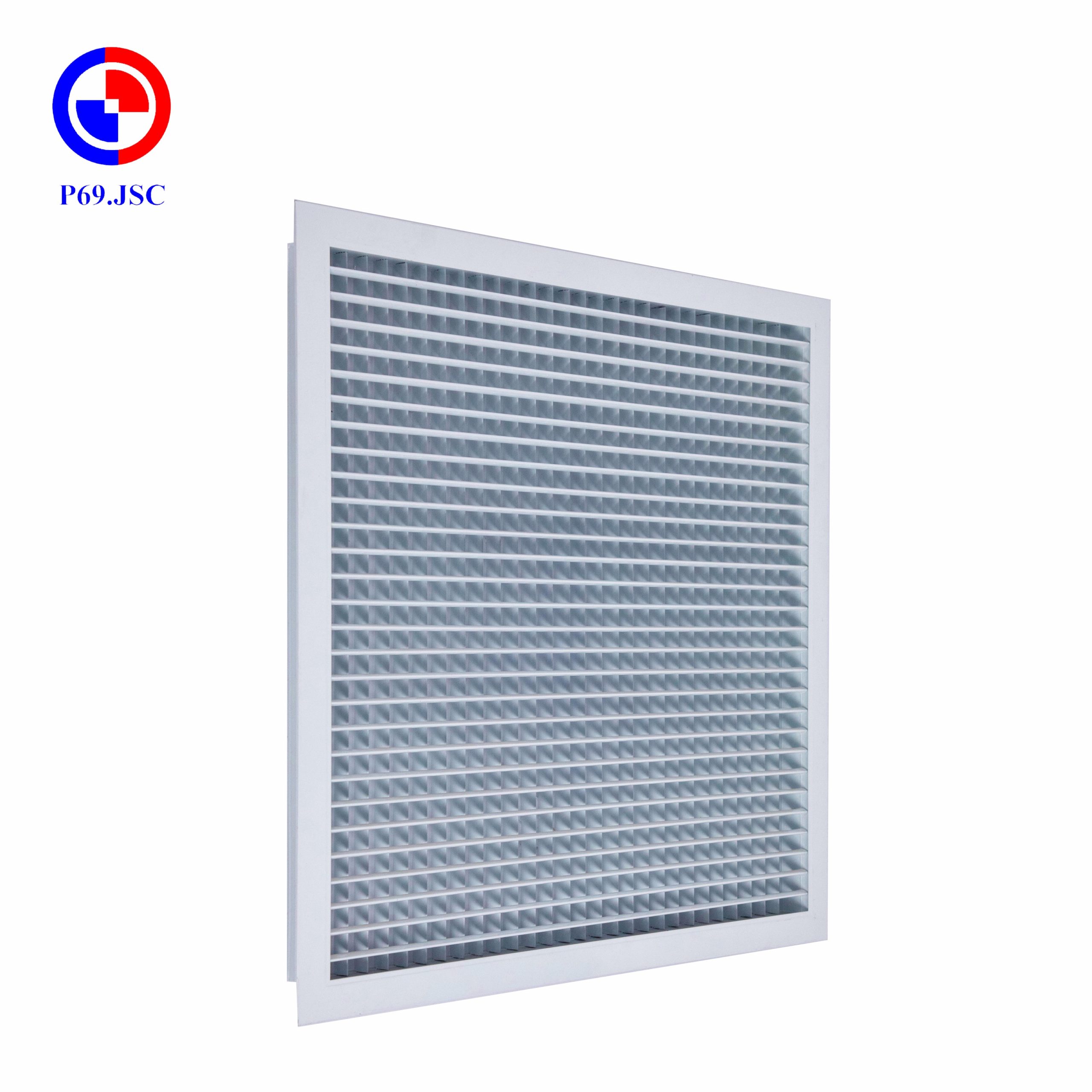 Product Structure
Frame: Shaped Aluminum thickness 0.75mm
Vane: Shaped Aluminum thickness 0.6mm
Product Features 
The design of 2-layer oval spokes is manufactured on the leading technology lines of Korea and Japan, bringing a modern and high-class design during use. In particular, the product stands out by the following advantages:
– The product is made from profiled aluminum, on the wings there are support ribs to help increase the rigidity of the entire product.
– Design a variety of colors, suitable for all needs of customers
– Install directly on the wall or directly on the air duct
– Design a dust filter or insect screen
– Wings can be adjusted to an angle depending on usage requirements
>> Please see more products Single Layer Diffuser with Dust Filter of P69 Mechanical Factory
Air Grilles Application
Air Diffuser products Single Layer Designed on modern technology lines, all criteria meet safety standards suitable for all works used in high-rise buildings or apartments. As follows:
– Used as a return air outlet or a large-sized supply air outlet
– Good ability to avoid rainwater, usually mounted outdoors
– Design directly on the air conditioning system of apartments and industrial zones
Product Detailed Video
P69 Mechanical Factory Contact Information
Address: Km 18, Thang Long Boulevard, Thach That Quoc Oai Industrial Area, Hanoi
Headquarter: No. 06/165C, Xuan Thuy, Cau Giay, Hanoi
Telephone: 09666 86 969
Hotline: 0989 188 982
Email: kd1@cokhip69.com.vn
Website: https://cokhip69.com.vn/