Return Diffuser is often used as air-supply doors or return doors from which to supply fresh air according to the specific requirements of the building. With the ability to avoid rain very well, so this type of louver is often mounted outdoors. Users can adjust the angle according to their needs. Here, P69 Mechanical Factory will introduce you to the most detailed product information.
Product information
SKU: FRD (Return Diffuser)
Material: A6063T5 . grade aluminum profile
Surface coating: Powder coating
Standard color: Porcelain white, and other standard colors
Optional accessories: Flow regulating valve (OBD), dust filter plate.
Size: According to design requirements.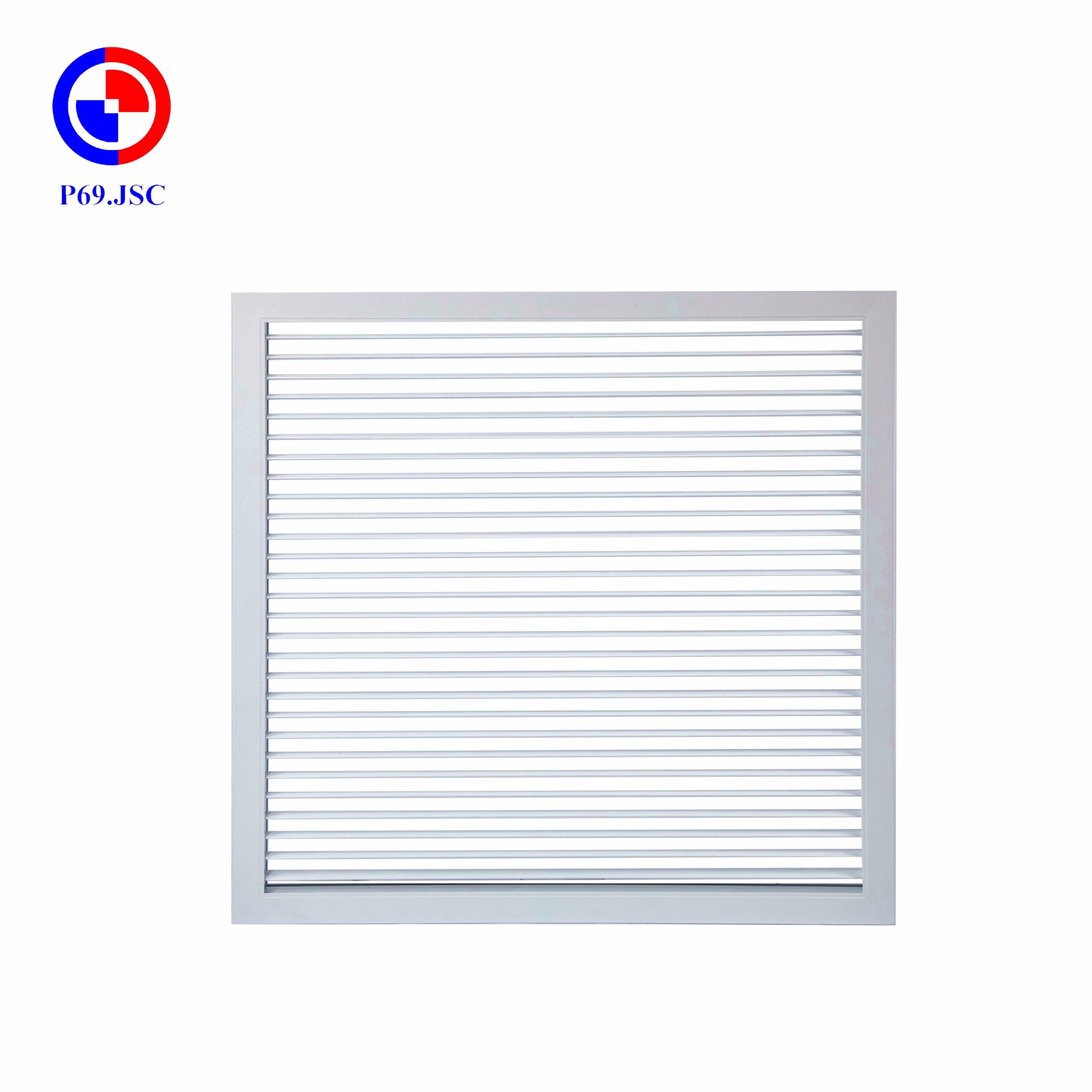 Return Diffuser Structure
– Frame: Aluminum thickness 0.75mm
– Vane: Aluminum thickness 0.6mm
Usage Characteristics
– Products are used as supply louvers, return louvers
– Suitable for installation with all types of false ceilings
– Separate frame and core, easy to disassemble and maintain
– Can be square or rectangular, depending on the design. Depending on the installation location, you can choose to blow 1, 2, 3 or 4 directions.
Materials
– The frame is made from profiled Aluminum, the top has stiffeners and corners to create a right angle for the entire door.
– Wings are made from aluminum profiles, on the wings there are support ribs to increase stiffness.
– Painted by powder coating line according to Korean and Japanese technology. Various colors.
>> Please see more Single Layer Diffuser with Dust Filter of P69 Mechanical Factory
Detailed product video
P69 Mechanical Factory Contact information
Address: Km 18, Thang Long Boulevard, Thach That Quoc Oai Industrial Area, Hanoi

Headquarters: No. 06/165C, Xuan Thuy, Cau Giay, Hanoi

Telephone: 09666 86 969

Hotline: 0989 188 982

Email: kd1@cokhip69.com.vn

Website: https://cokhip69.com.vn/