Single Layer Diffuser is a common type of louver used by P69 Mechanical Factory designs. With technical details and different usage characteristics. The following article will introduce you to the most detailed product.
Product Information
WPD (Weatherproof Diffuser)
Material: Aluminum A6063T5
Surface coating: Powder coating
Standard color: Porcelain white, and other standard colors
Links increase spokes: 8 shaped aluminum tubes depending on the length of the louvers
Optional accessories: Flow regulating valve (OBD), dust filter plate.
Size of oval spokes: According to design requirements.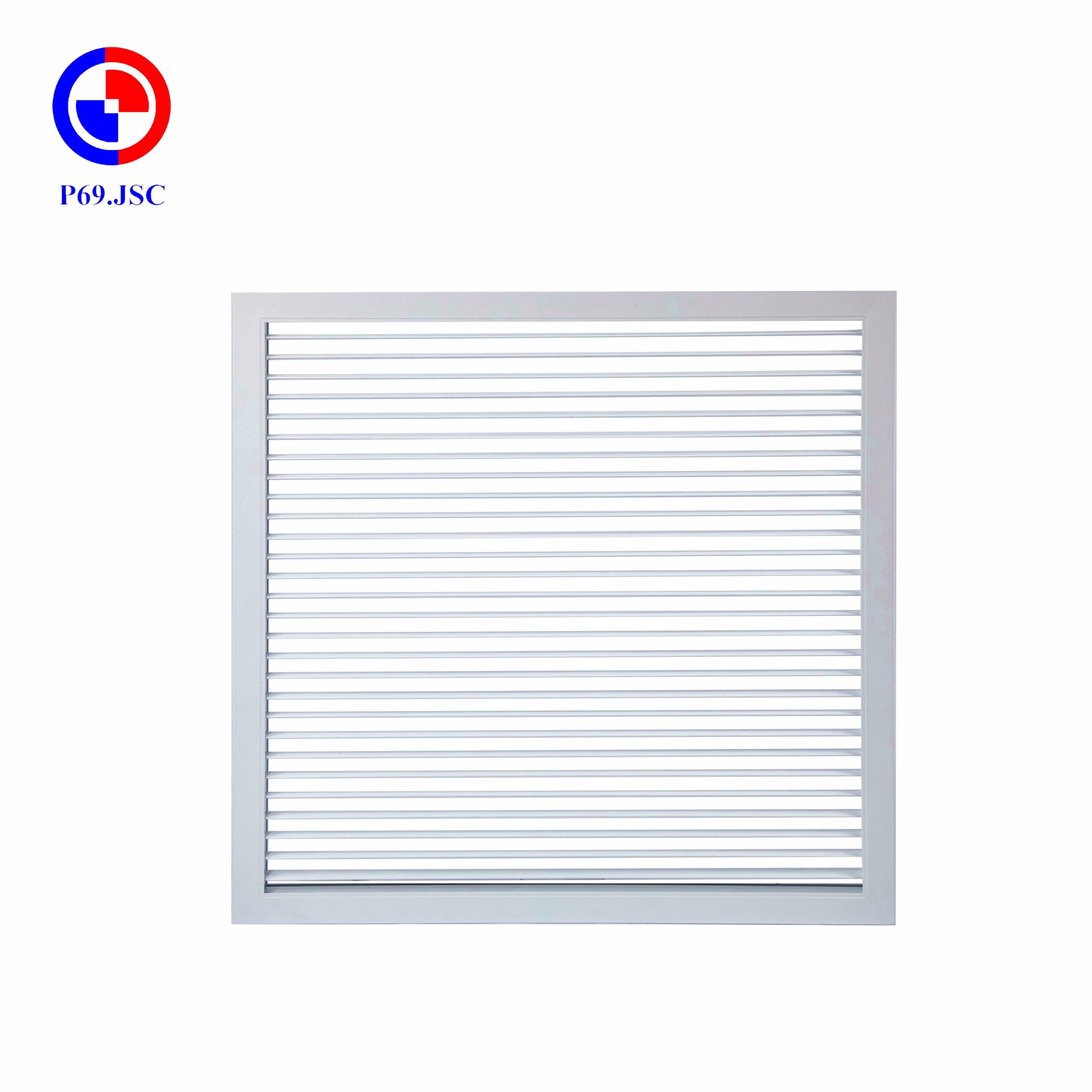 Usage characteristics
– Product is used as return louvers or fresh air vents when required for construction art.
– Especially able to avoid rain very well, often mounted outdoors.
– Mounted on the wall or directly on the ductwork.
– Can be attached with a dust filter or insect screen.
– Wings can be adjusted to an angle depending on usage requirements
Product structure
– Frame: 0.75mm thick profile aluminum
– Vane: 0.6mm thick aluminum profile
– Spokes: aluminum spokes of the same quality
>> Please see more products Double Layer Diffuser of Factory P69
Color material
– Wings are made from aluminum profiles with a rain-proof hook structure according to Samkwang standards.
– The frame is made from profiled aluminum with stiffening ribs and high artistic edges.
– Painted with electrostatic powder coating line according to technology of Korea and Japan, color according to customer's request.
Standard Table Size
Model
Face Size
Neck Size
Duct Size
Ceiling Size
SLD
A x B
A – 45
A – 35
A – 30
B – 45
A – 35
A -30
Parameter Table
Neck Size (mm)
Velocity (m3)
1
1,5
2
2,5
3
3,5
4
300 x 200
m3/s
0,029
0,043
0,057
0,071
0,086
0,1
0,114
m3/h
103
154
206
257
308
360
411
400 x 200
m3/s
0,04
0,061
0,081
1,101
1,121
1,142
1,162
m3/h
146
218
291
364
437
510
583
400 x 300
m3/s
0,069
0,104
0,139
0,173
0,208
0,243
0,277
m3/h
250
375
499
624
749
874
999
The oval slat door is one of the outstanding products at P69 Company, the details are carefully and meticulously processed to ensure quality criteria, suitable for all requirements of customers. Follow along with the outstanding parameters of the oval spokes below!
Product Detailed Video
Hopefully, with the information we share above, you will have more useful knowledge about oval spokes. For more information about the product, you can directly contact the Hotline number for answers!
P69 Mechanical Factory Contact Information
Address: Km 18, Thang Long Avenue, Thach That Quoc Oai Industrial Park, Hanoi
Headquarter: No.06 Alley 165C, Xuan Thuy, Cau Giay, Hanoi
Tel: 09666 86 969
Hotline: 0989 188 982
Email: kd1@cokhip69.com.vn
Website: https://cokhip69.com.vn/