Horizontal Elbow (Cable Tray) is one of the indispensable details in the cable ladder system in high-rise buildings, construction buildings, apartment buildings, etc.
However, what is a cable ladder and what are its characteristics. Let's follow the post shared below of the P69 Mechanical Factory for answers.
What is Horizontal Elbow (Cable Tray)?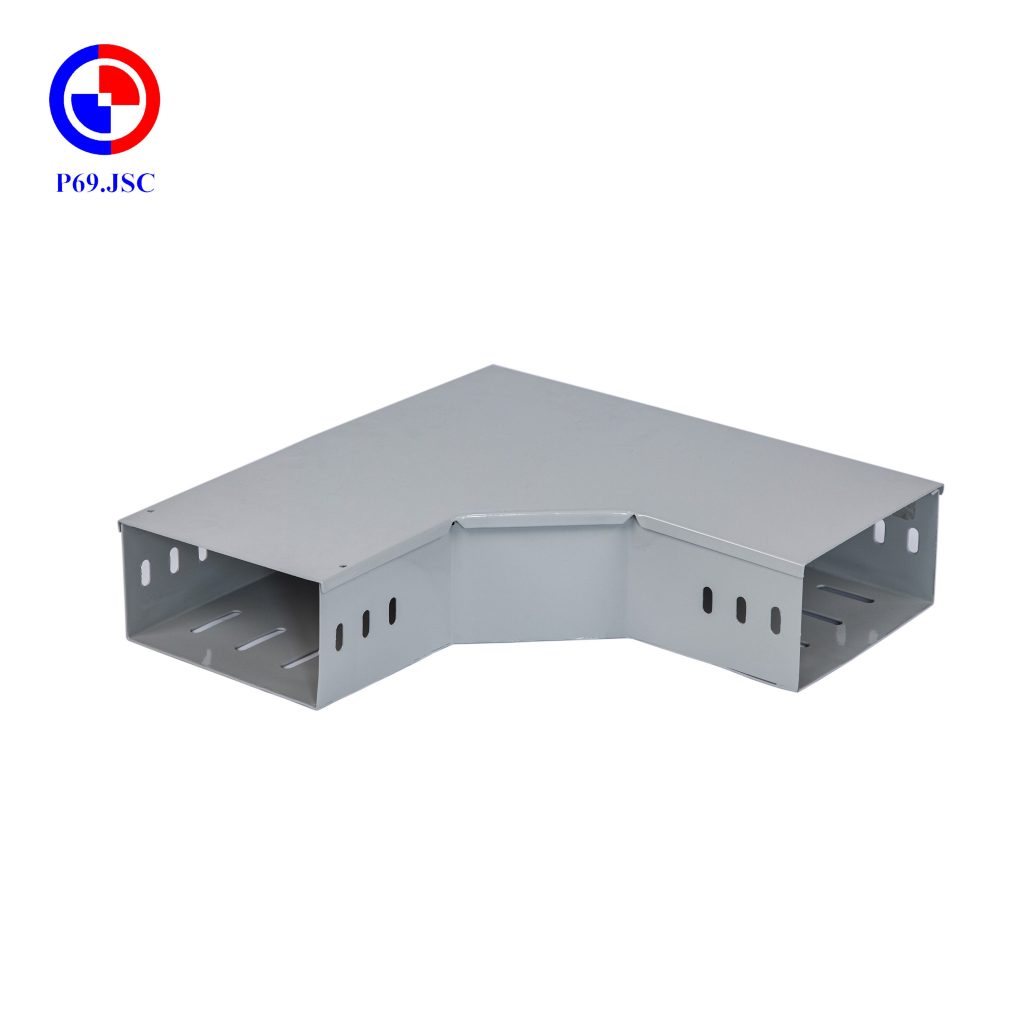 Horizontal Elbow Cable tray, also known as horizontal bends, cable trays are a type of connecting details of cable ladders used to redirect the trough system in a perpendicular direction on the same plane to help install cable trays so that suitable for each design and structure of the project easily and quickly.
Product Information
PKMC-CUN
Materials: Corrugated iron, stainless steel, or steel
Coating: Powder-coated, galvanized, hot dipped galvanized, electro galvanized
Standard Colors:Gray, and other standard colors
Size:
– Length: 1500 ÷ 9000 mm
– Width: 80 ÷ 800 mm
– Height: 50 ÷ 200 mm.
– Thickness: 0,6 ÷ 2,5 mm
Standard:
– Impact resistance: IEC 61537-2001
– Load capacity: IEC 61537-2001 hoặc Nema Ve1-2009
– Powder-coated: ≥70µ TCVN 4392-1986
– Hot-dip Galvanized: ASTM A123/A123M-08
– Size: As requirements
Why should use horizontal elbow cable tray?
The horizontal elbow cable tray is made of durable and sturdy steel material so you can use it for a long time. The surface of the product is electrostatically painted to help color fastness, and increase the adhesion of paint on metal surfaces without affecting the quality of the work.
The thickness of the product is manufactured horizontally according to the technical standards of the cable ladder to create a tight fit between the accessory and the cable ladder. Because it is designed to run at a 90-degree angle, it is suitable for many different projects.
If you want to buy horizontal elbow cable tray, please contact 098 918 8982 for more details.
P69 Mechanical Factory Contact information
Address: Km 18, Thang Long Boulevard, Thach That Quoc Oai Industrial Area, Hanoi

Headquarters: No. 06/165C, Xuan Thuy, Cau Giay, Hanoi

Telephone: 09666 86 969

Hotline: 0989 188 982

Email: kd1@cokhip69.com.vn

Website: https://cokhip69.com.vn/