Spiral Round Duct is one of the best air grill of P69 Mechanical Factory. However, not everyone understands what is a spiral duct? What are the advantages of a spiral duct? Follow the post shared by P69 Mechanical Factory below, for answers!
Product Information
OGTX
Materials:
Galvanized steel, or Inox

Usually use GI galvanized sheet, JIS G3302 standard
Thickness:
Common thickness: 0.48, 0.58, 0.75, 0.95, 1.15 mm

Galvanized thickness: from Z8 (80 gram zinc / m2) to Z18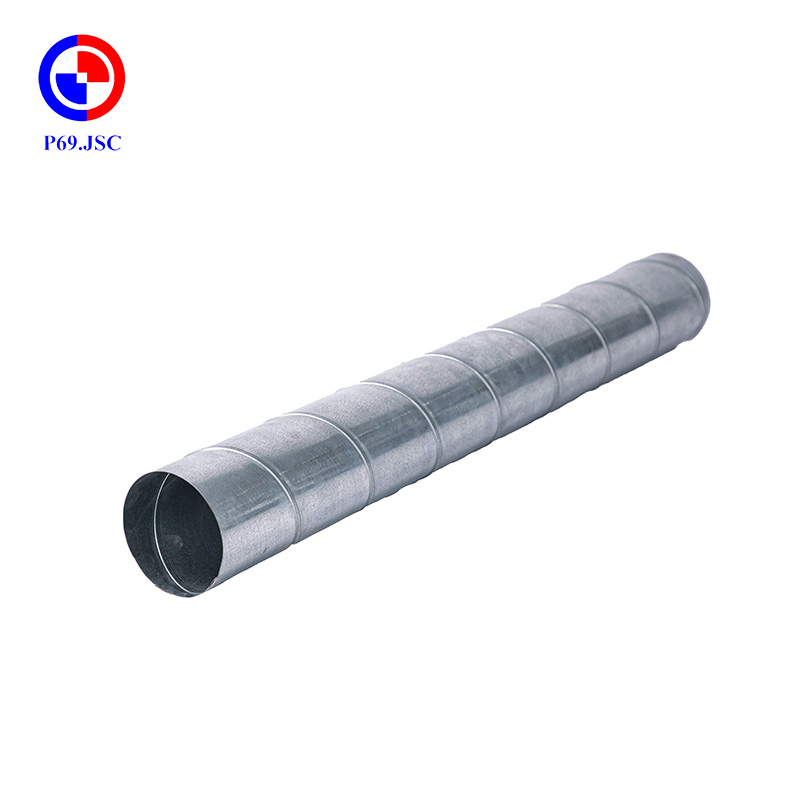 What is a Spiral Round Duct?
It is a type of air duct made from galvanized steel. Manufactured according to ISO-1999 standards in spiral and cylindrical shapes. In particular, the lightweight and stiffening increase many times. Commonly used in civil and industrial buildings, as air channels, blowers and circulating air supply.
Compare to square duct , Spiral Round Duct has more advantages than similar products, so it is used more in industrial zones. Usually, each other project will use a different type of duct as well as the size used is not similar to each location.
Adavantages
Spiral Round Ducts are now a popular choice in all projects, thanks to their outstanding advantages in quality and aesthetics. At the same time, the spiral duct is even more prominent by the following advantages:
– The tightness of the spiral duct is better than that of the square duct fittings
– Quick and precise circular duct adjustment is easy – 100% efficient air flow on the same cross-section
– Circular spiral duct minimizes noise and has the lowest pressure loss
– The flow of gas flow is fast – timely operation
– Close mounting distance, helping to maximize the savings of the Duct Rack system
– Install equipment, supplies and accessories together in a unified and reasonable manner
5 characteristics of inox Spiral Round Duct
1. Eye-catching design – high aesthetic
The spiral air conditioning duct is designed by good architects. After having many tests from actual works. More importantly, is the unique properties of each material, rich colors give customers more options suitable for the project and increase the aesthetics of the spiral duct, effective color scheme suitable for different uses and decorations.
2. Easy – fast installation process
The characteristics of the spiral air duct also come from the advantage in the process of installation and construction. The spiral conduit system can be easily installed through the structural frames, the longer apertures are also quick to install, the number of optic mounts and accessories is reduced, the connections are also made easy and fast.
Twisted ducts use quick joints at the joints and easily penetrate the building's frame structure, making installation quick and convenient. At the same time, limit the number of employees when performing.
In addition, the twisted air duct carries with it the outstanding feature of compactness, which helps to conquer even fastidious guests, easily moving and matching, assembling in any construction.
3. Cost-saving and time-saving
Products is compact, easy to install, saving maximum time with a maximum pipe length of up to 6m (pipe length can be changed depending on customer requirements), reducing the number of joints and reducing costs. time optimization. Coupled with optimized characteristics for air flows, reduced pressure allows other equipment to perform better, thereby reducing investment, repair and replacement costs.
4.
Installation size suitable for many design models
The spiral duct is designed with a variety of cross-sections, from small to large, you can easily find the pipe size that suits the needs of your family or project. This is a feature that attracts customers to choose spiral ducts in construction.
5. Low noise
Due to the fact that in the transparent spiral windpipe, there is almost no turbulent flow, the impact of the gas stream with the pipe wall is negligible, so the noise level of the system is small. It is this factor that makes the process of using spiral ducts suitable for projects with strict requirements on noise such as offices, theaters, cinemas, museums…
Detailed Product Video
P69 Mechanical Factory Contact information
Address: Km 18, Thang Long Boulevard, Thach That Quoc Oai Industrial Area, Hanoi

Headquarters: No. 06/165C, Xuan Thuy, Cau Giay, Hanoi

Telephone: 09666 86 969

Hotline: 0989 188 982

Email: kd1@cokhip69.com.vn

Website: https://cokhip69.com.vn/