Horizontal Crosses (Cable Tray), also known as the cable tray intersection, is one of the indispensable cable tray installation accessories. This product has the function of dividing the direction of the cable tray system into 4 different directions on the same plane. Let's learn about this product with P69 Mechanical Factory in the article below.
Product Characteristics
PKMC-TUN
Materials: Corrugated iron, stainless steel, or steel
Coating: Powder-coated, galvanized, hot dipped galvanized, electro galvanized
Standard Colors: Gray, and other standard colors
Size:
– Length: 1500 ÷ 9000 mm
– Width: 80 ÷ 800 mm
– Height: 50 ÷ 200 mm.
– Thickness: 0,6 ÷ 2,5 mm
Standard:
– Impact resistance: IEC 61537-2001
– Load capacity: IEC 61537-2001 or Nema Ve1-2009
– Powder-coated: ≥70µ TCVN 4392-1986
– Hot-dip Galvanized: ASTM A123/A123M-08
– Size: As requirements
Product Parameters
– Surface: Powder coated, ZAM corrugated iron – zinc coated, hot-dipped galvanized with or without lid
– Color: According to the requirements of each project, system
– Standard thickness: 0.8, 1.0, 1.2, 1.5, 1.8, 2.0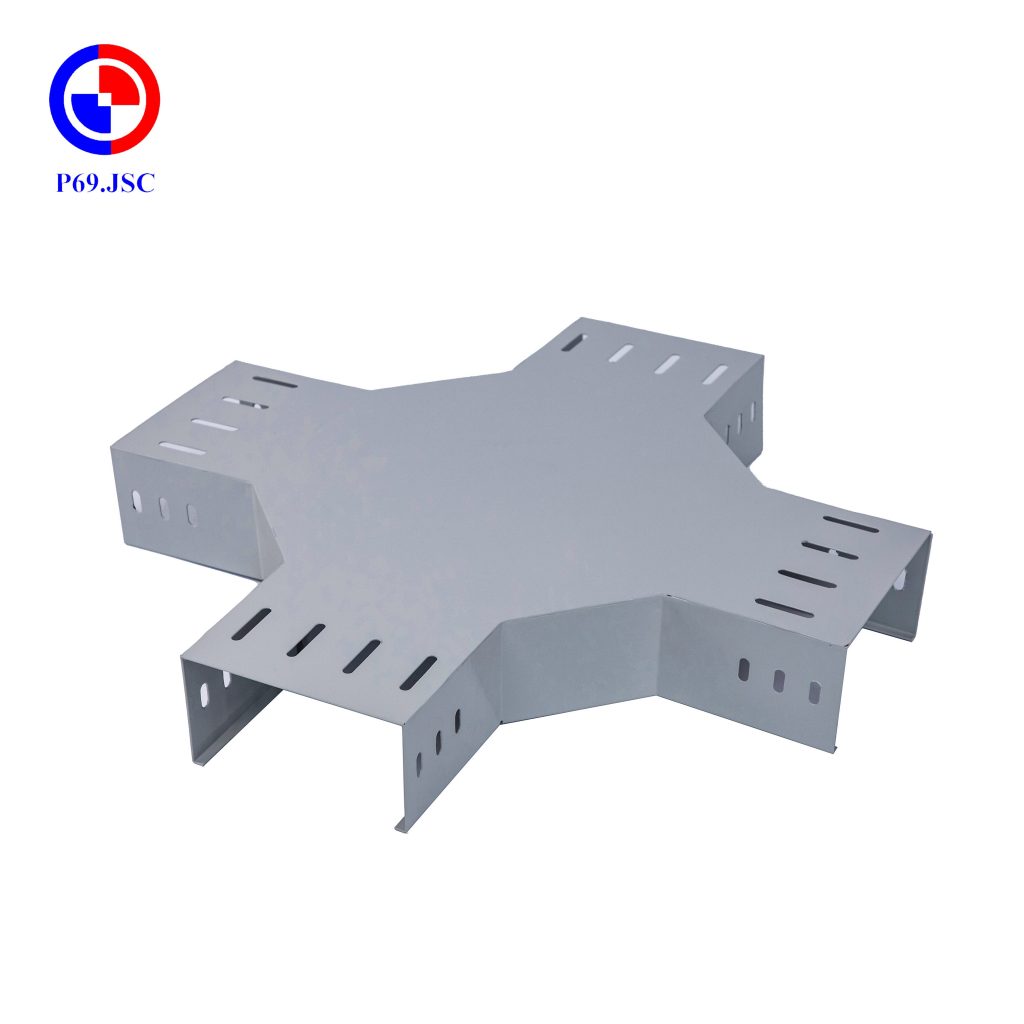 Features and uses of horizontal crosses (cable tray)
Currently, Horizontal Crosses cable trays are commonly and widely used because of outstanding uses such as:
– The directions are perpendicular to each other, thereby helping to reverse the path of conducting electricity and cables as required
– Divide the direction of the cable tray system into 4 different directions
– Symmetrical, equal sides
– Durable
– Competitive price…
Address to provide prestigious horizontal crosses cable tray
P69 Mechanical Factory is proud to be the address providing prestigious cable tray accessories trusted and selected by a large number of customers. Our products are guaranteed in terms of quality, origin, price and policies for customers.
All are manufactured based on modern technology lines that will surely make customers satisfied.
P69 Mechanical Factory Contact information
Address: Km 18, Thang Long Boulevard, Thach That Quoc Oai Industrial Area, Hanoi

Headquarters: No. 06/165C, Xuan Thuy, Cau Giay, Hanoi

Telephone: 09666 86 969

Hotline: 0989 188 982

Email: kd1@cokhip69.com.vn

Website: https://cokhip69.com.vn/