Currently, the Z spokes are considered to be in the "top" of the most effective products and are trusted by many users. But what is the actual Z spokes door? Why should you choose them? It is still a question that many people wonder. Let's answer with P69 Mechanical Factory right below the following article!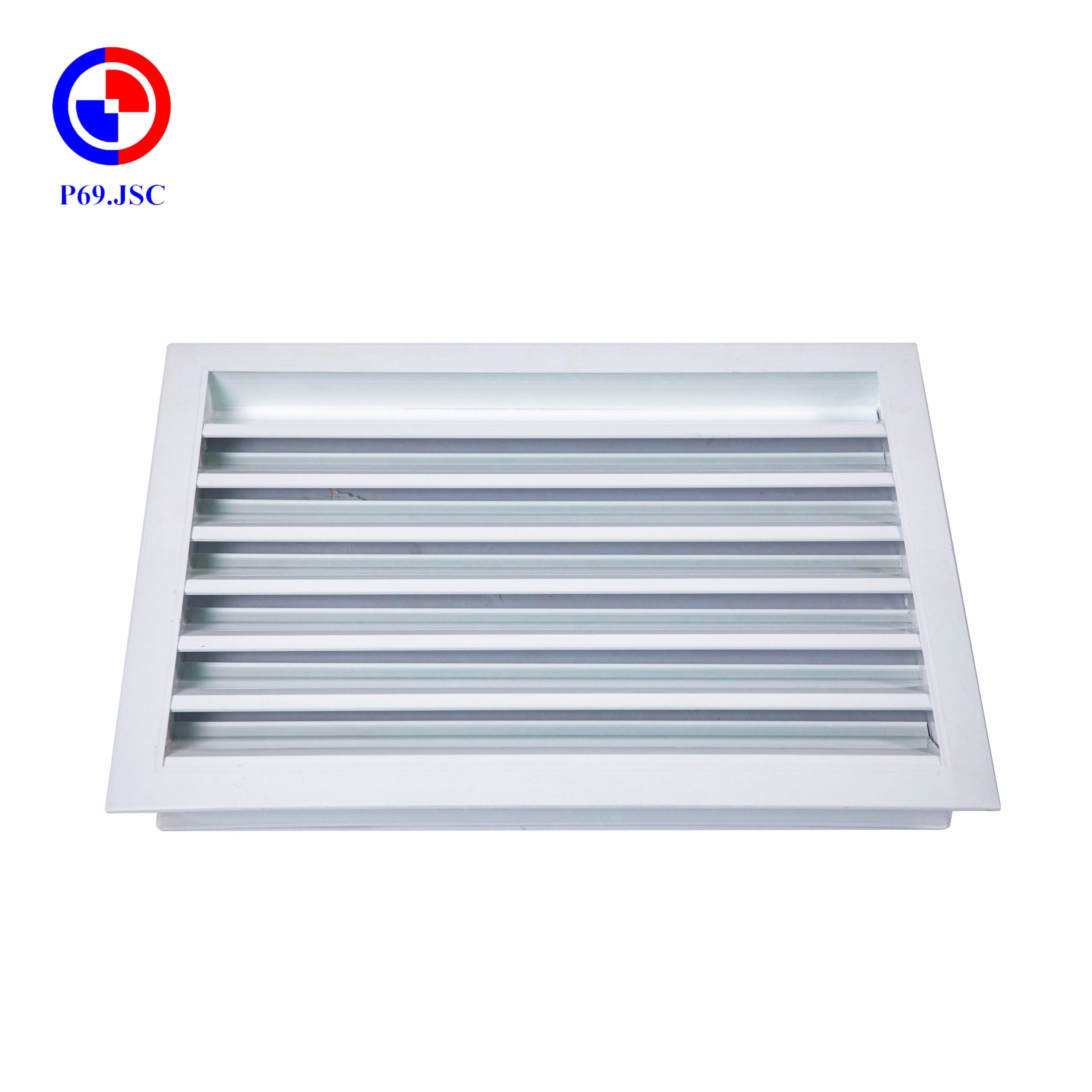 What is the Z spokes door?
This is a type of air outlet with spokes like the letter Z in a vertical or horizontal position. This product line is becoming more and more popular and is installed in projects such as schools, hospitals, commercial centers, …
>> Please see more products 7-direction Air Grills of Mechanical Factory P69
Reasons to choose this product
The wings of the Z-shaped louver are manufactured from high quality aluminum profile with standard thicknesses from 0.6 mm.
The frame is made of high quality profiled aluminum, with a thickness of 0.85 mm. At the same time, this frame also has stiffening ribs and edges to create a high aesthetic factor.
The structure of the air outlet is assessed to be extremely solid and elegant.
Possesses excellent water resistance with water-stop hook structure fixed and firmly on the frame. This is because Z spokes are usually installed outdoors.
The door can be adjusted with an angle depending on different usage requirements.
Possessing standard color is white 9008 oxyplast.
Especially, the product is also electrostatically painted on a modern paint line according to the requirements of a variety of customers.
Wind door application in life
Attached with insect screen or coarse filter, dust filter when required.
Used as return louvers or fresh air vents when required for construction art.
Designed for direct installation on walls or on ducts.
Why should you buy products at P69 Mechanical Factory?
Mechanical factory P69, proud to be the number 1 unit in the market providing mechanical processing products.
Here, we own a team of designers, technicians, and experienced workers. Thoroughly trained and highly skilled.
The system of equipment, machinery and technology is invested in the most modern and advanced. Commit 100% product quality, guarantee genuine products.
Customers can directly inspect the product before importing it. Refund if found counterfeit goods.
Various models, designs and product categories to meet the diverse needs of customers. Professional transportation and installation support. The most competitive quote in the market.
So what are you waiting for, hurry up and contact us for a consultation
Contact information P69 Mechanical Factory
Address: Km 18, Thang Long Boulevard, Thach That Quoc Oai Industrial Area, Hanoi

Headquarters: No. 06/165C, Xuan Thuy, Cau Giay, Hanoi

Telephone: 09666 86 969

Hotline: 0989 188 982

Email: kd1@cokhip69.com.vn

Linkdin: https://www.linkedin.com/in/nhamaycokhip69/

Website: https://cokhip69.com.vn/

Youtube: https://www.youtube.com/channel/UCfvFIhhuJ4ANAO0glUPSTAg/ab